Xerox® Helps Bowe Machine Company Crush It
An IT upgrade led to a 10% increase in sales for this 64-year-old maker of car crusher rotors.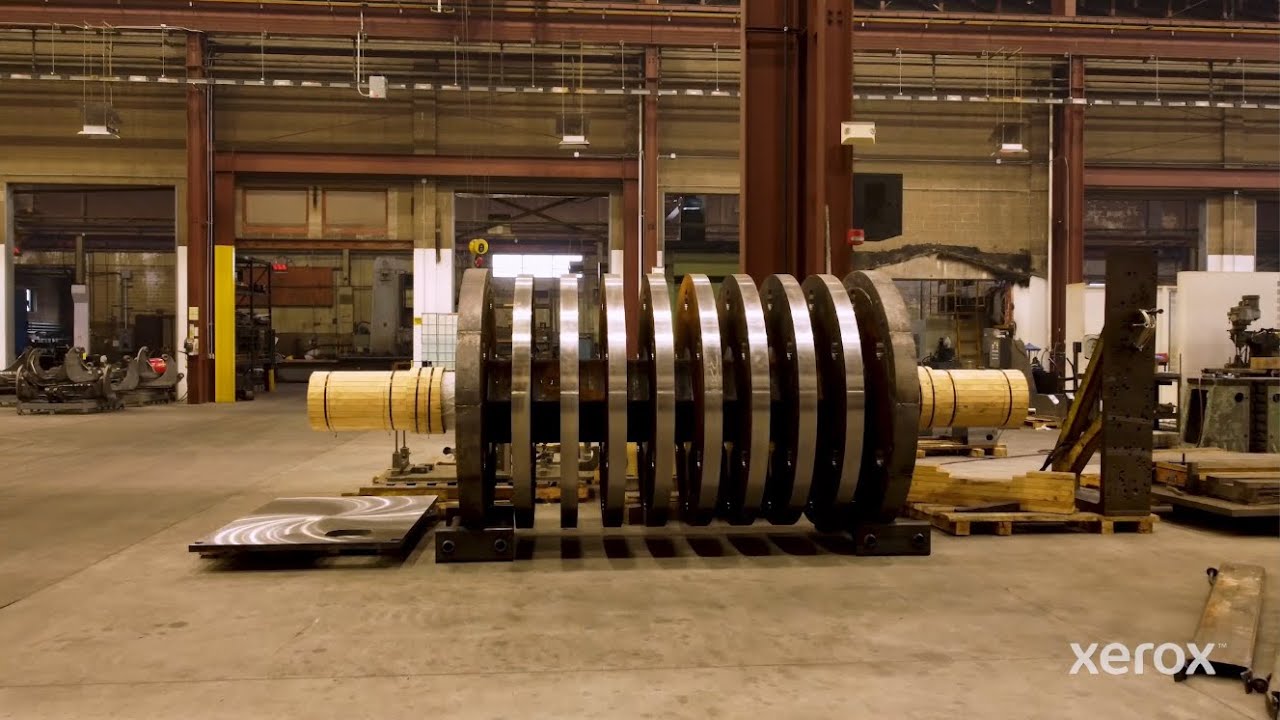 If you've ever seen a video of a car being shredded for recyclable scrap, then you are familiar with the large equipment Bowe Machine Company manufactures. Founded in 1956 by Bill Bowe, the company supplies half of America's scrapyards and makes machine parts for companies like John Deere. The Bettendorf, Iowa, company's rotors can pick apart an automobile in 30 seconds and nearly 1,000 vehicles over the course of an eight-hour shift. 
When Jeff Hassel arrived as CFO at Bowe in 2014, he knew of Bowe's strong manufacturing reputation, but when he conducted an IT assessment, "sirens went off right away." Its enterprise resource planning (ERP) system ran on servers that, inexplicably, were not being backed up. "Everything we had—emails, drawings, our file system—was on these servers. You were one event from losing your information. You lose information, you can't function," says Hassel. 
With only a single IT guy in-house, however, Bowe turned to RK Dixon, a Xerox Business Solutions company, for help. "During discovery we pointed out outdated infrastructure and operating systems, which was a security risk," says Don Godke, senior account executive at Xerox IT Services. "Their backups needed to be sent off-site." 
The Xerox team quickly encountered other problems. Located not far from the Mississippi River, just across from Illinois, the 80-person operation unfolds across three city blocks. Heavy-duty machinery is everywhere, but Wi-Fi coverage is spotty across this area. That meant employees couldn't reliably access or save electronic documents and drawings. Xerox upgraded the company's servers and infrastructure, so the Wi-Fi became dependable and speedy—and crucial documents were now backed up in the cloud. "We rely heavily on our ERP system," says Hassel. "Less running the company by spreadsheets and more network focus, which we couldn't do before because the connectivity wasn't great." 
Bowe's new network also led to greater employee productivity. Because the Wi-Fi hadn't been reliable, employees on the shop floor logged their hours on paper cards. Then someone had to manually enter those times. With its connectivity issues resolved, Bowe has switched to electronic record-keeping, and the person once tasked with the busywork of entering staff hours can now focus on customer service. With 80 employees, "we need to be able to redirect our employees to help with sales, which helps us get more product out the door," says Hassel. He calculated that the bolstered IT infrastructure contributed to a 10% increase in revenue. 
In addition to building rotors, Bowe rebuilds them. When a rotor comes back into the shop, an engineering assessment is done. If there is any kind of engineering that can make that rotor stronger, that happens then. "From the standpoint of sharing engineering results inside and outside the company, upgraded tech makes that process more efficient," says Hassel. "If you have the IT infrastructure, you're better able to utilize the software [like data sharing] that sits on there. If you don't, then it's hard to use that as a tool." 
By serving as tech support every month, Xerox has alleviated some burden off Bowe's sole IT employee. "Our Managed IT Services provided the support and upgrades to deliver a faster, more dependable, stable network," says Godke. "This allowed their in-house IT director to spend more time with employees for performance and satisfaction, which equates with productivity." 
Even though as an essential company Bowe never had to close for the pandemic, the company's now-reliable network allowed employees to work from home if necessary. With the help of Xerox, this family-owned business, which grew from a rented one-room shop to take over three city blocks, can keep on, well, crushing it.
---
Follow us on LinkedIn to stay up to date on all the latest from Xerox ⁠—including news, innovation, and big announcements.
End-to-end IT Services and Solutions
We offer 24/7/365 IT support services for your small business or medium business with a personalized suite of IT solutions.
Related Articles
Breaking Free from Paper

See how financial services firm, Freedman & Co., used Xerox® DocuShare® to digitize and easily manage volumes of sensitive client files, ultimately helping spur a decade of growth.

How Our IT Services Transform with Today's Workplace - Xerox

Learn how Xerox provides innovative IT services that help small & medium-sized businesses solve challenges & stay competitive in an always-changing market.

Xerox named Software Line of the Year by Buyers Lab

Xerox® DocuShare® and ConnectKey® Apps helped us rise to the top during the 2020 winter awards season.

You're Free to Collaborate

Highly configurable and cloud-connected, VersaLink workplace assistants are ready to work today, grow tomorrow.

We Can Do This: Finding Professional Alignment in an Upended World

James Glasnapp, social scientist, future of work expert, and consultant to Xerox PARC, shares how to make the most of an enforced slow-down and realign work accordingly.

It'll happen to you.

No business is too big or too small to be the target of a cyberattack. Proactive preparation is key. Are you ready?