Global Service Experience
Connect, click, communicate — that's all it takes.
Slowing down isn't an option. That's why Global Service Experience is the customer-focused service that keeps you running around the clock, anywhere in the world.
Looking for Service Support?
It's like having an engineer in the room
---
Direct support through live chat, phone or Augmented Reality

Support experts equipped with advanced remote capabilities to access devices and data

Immersive collaboration with Augment Reality helps to speed resolution times
Click
Click: Deep Engineering Expertise Is At Your Fingertips.
Access the same knowledge base used by our technicians and find the answers you need.
Can search our knowledge base on support.xerox.com or Google, 24/7

Can interact with the intelligent Digital Agent to get the answers and videos you need

Can also be transferred to chat with our Support Experts if more help is needed

Engage with Interactive 3D visualisations that enable you to understand your product components and help you resolve issues on your own with digital twin visual awareness. Learn more about CareAR® Instruct for Xerox® Devices
Communicate
Communicate: Support Experts, Effective Solutions.
Augmented reality is now powering our customer support team. With the help of CareAR™, A Xerox Company, and its augmented reality platform, we can see what you see virtually and help fix the issues faster as if we were there with you.
See what I see – Our support expert becomes immersed in your environment using the device's rear video camera. This gives the support expert a visual display of what needs attention.

Real-time graphical guidance – Experience real-time guidance using annotations, such as arrows, pulsating circles, and other features, which are overlaid on the live video. These graphical instructions "stick" to where they are drawn even when the mobile device is pointed at another object and then re-pointed to the original object.

Privacy – Only the rear-facing camera is used so you are not seen.

CareAR Assist App or browser – Your choice. When you download the CareAR Assist App your Xerox support expert can take advantage of a rich set of tools to guide you more effectively for rapid resolution. The browser option skips the CareAR Assist App download and offers the laser pointer tool only.
On-screen app tools include:
Arrows, up down left right colours

Laser Pointer

Pulse

Pen

Text flags label anchored

Undo
Flashlight

Snapshot

Pause

Share Content

Recording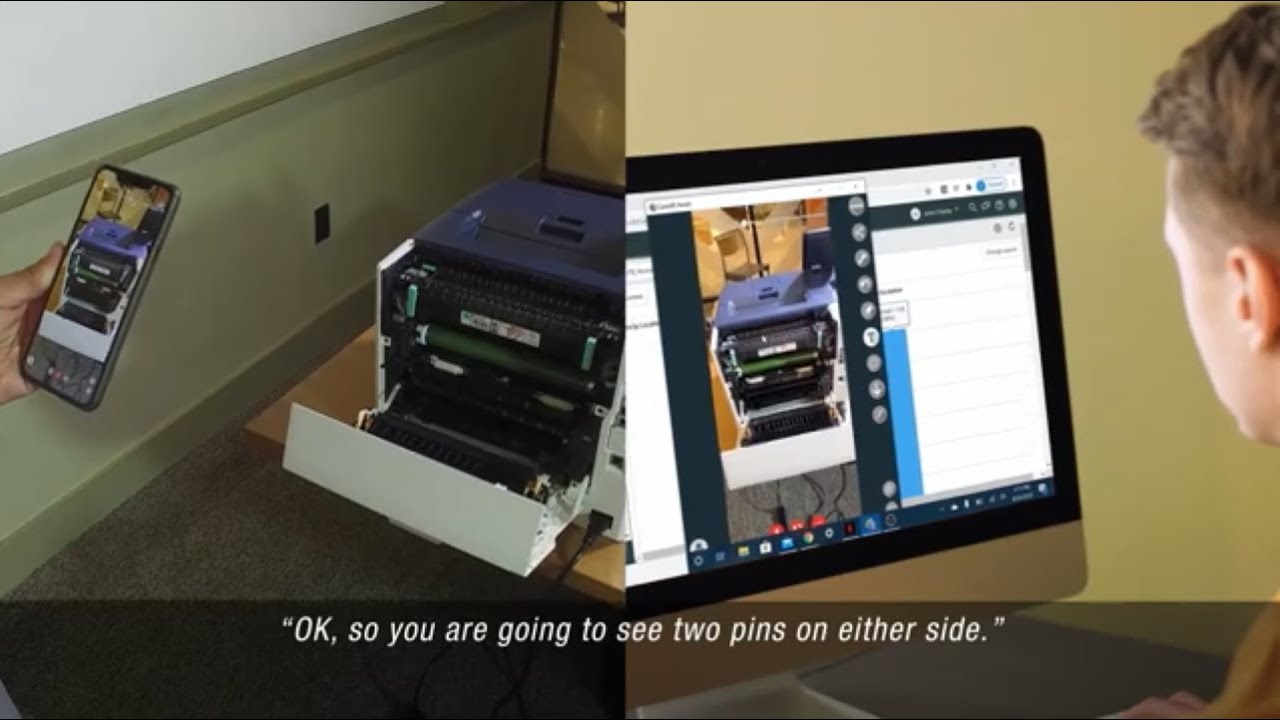 Easy and Effective Visual Support
94% of customers gave a 4 or 5-star rating for Xerox support experiences utilising CareAR Assist
We are proud to be 2022 TSIA STAR Award Finalists
Download the CareAR Assist App
>45%
of hardware problems are fixed remotely in less than 12 minutes.
>90%
of software problems are fixed digitally.
>85%
of requests are responded to within 1 minute.
Global Service Experience brochure
Global Service Experience brochure