Get a competitive advantage through digital transformation.
Understanding and questioning processes is the first step toward future-proofing your organization.
IDC InfoBrief: Digital Transformation
This exclusive IDC InfoBrief examines how the latest disruptive technologies are fueling a revolution in digital transformation.
Discover how new technologies can help you reshape how your business functions to reach higher efficiency, productivity and security and sharpen your competitive edge:
Cloud, mobility and big data: Streamline existing business processes and open up an entire spectrum of new processes

Information, analytics and insights: Achieve the right physical/virtual balance across people, technology and workplaces

Workflow automation and AI: Strengthen security and reduce costs by breaking down silos, capturing unstructured information and converting information into high-value, actionable data
By 2021, 60% of G2000 companies will have adopted a digital/physical balanced intelligent workplace. Stay ahead of your competition.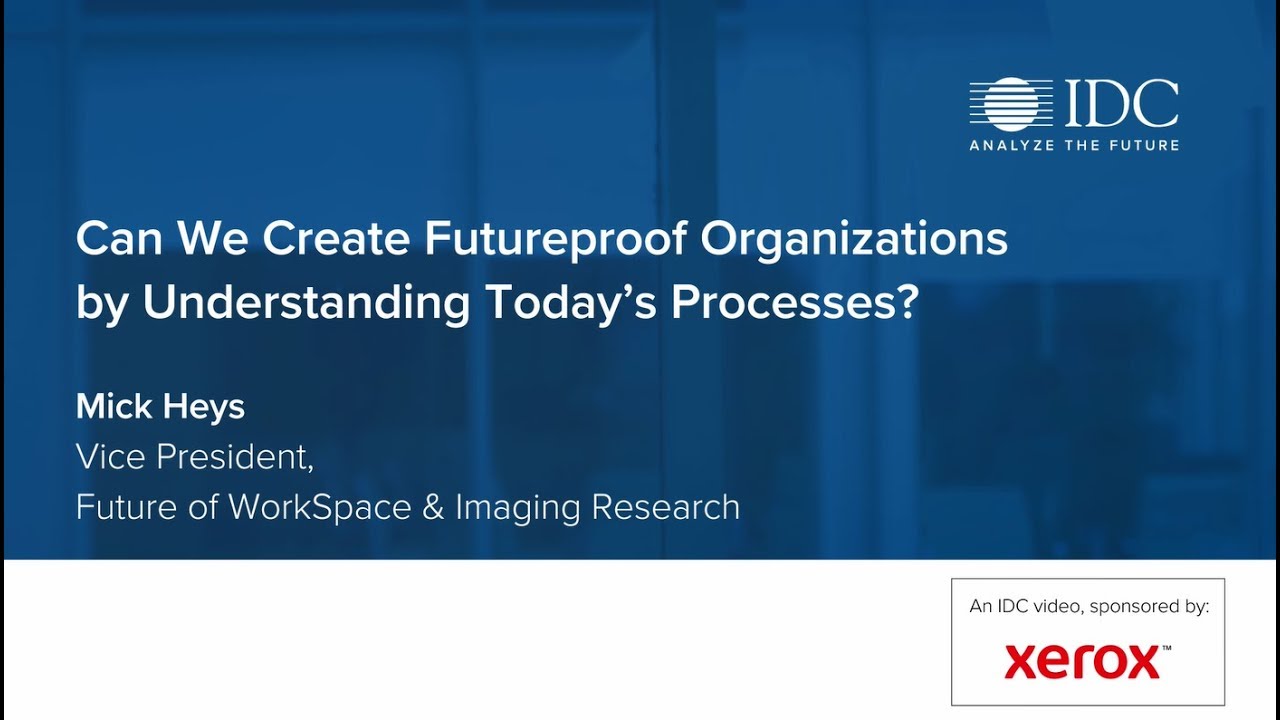 Learn how your company can build out the best processes and leverage the latest innovations to create a future-proof and intelligent workplace.
Fill out the form below to access the exclusive IDC InfoBrief.
Thank you for your interest. We've sent you an email with a link to download your exclusive IDC InfoBrief.
Related Articles
Putting Zero Trust first.

Your security is our top priority. See how our products and services support your Zero Trust initiatives.

Leader in Quocirca's MPS Cloud Print Services, 2023 Report

Quocirca named Xerox a Leader in its Managed Print Services Cloud Print Services 2023 Report over all competitors in the industry in strategic vision & completeness of service for our cloud-based device management, print management and productivity tools.

Quocirca Security Insights for Hybrid Work Environments

Quocirca outlines seven key insights to help protect your print endpoints in a hybrid working environment and highlights how Xerox® Managed Print Services can help you keep up with print security challenges.

Xerox Wins Keypoint Intelligence — Buyers Lab, Inc. (BLI) Pacesetter Award 2022–2023 for Comprehensive Managed Print Services Programs

Keypoint Intelligence – BLI recognizes Xerox Managed Print Services (MPS) a leader in cloud print management, advanced security, document workflows, and more with another Pacesetter Award.

National Bank of Bahrain Case Study

Discover how Xerox helped the National Bank of Bahrain to optimize its print management. Read on to find out more about the managed print solutions used.

Xerox named a Leader in Quocirca's MPS 2022 Landscape Report

Xerox continues to lead in the Quocirca MPS vendor assessment, based on strategic vision and depth of service offerings, including cloud, digital workflow, security, and analytics.