Xerox® Workplace Mobile App
Get more out of your printer through your mobile device.
The Xerox® Workplace Mobile App gives you the personal contactless connection you need with your multifunction printer (MFP), allowing you to save time on daily tasks and get work done safely.
Now you can scan, print, copy or release jobs using your mobile smartphone as a remote control, without having to touch your MFP user panel.
It takes the guesswork out of quickly and securely connecting your iOS and Android devices to your Xerox® MFP.
Download the app for free. Use it with Xerox® Workplace Solutions to access advanced features.
Key Features
These features come standard:
Connect Connect your smartphone to your MFP with a few taps. Use Near Field Communication (NFC) or scan a QR code to connect in seconds* or let the app auto-search for available printers on the network.
Print Open documents directly from the app for easy print and preview. Take and print pictures with the camera function. Stay nimble with a wide range of print settings.
Scan Initiate your scans right from your smartphone. Leverage your contacts and cloud logins to scan, digitise and route documents in a snap.
Copy Instead of the user panel, use your smartphone to access the core features of your MFP and initiate copy jobs.
Expanded features when used with Xerox® Workplace Solutions:
Mobile authentication to unlock your printer.

Secure print release.

Cloud connectivity to submit jobs and access resources from any network.
Your Challenges
Today, on the job means being on-the-go. Flexibility is a must for an increasingly remote and mobile workforce, with teams working from different locations, from different devices and at different times.
Mobile devices and multifunction printers make it easy to keep pace, but only if they can quickly and securely connect to each other—because wireless should be seamless.
And during a time when safety is top of mind for businesses bringing employees back to the office, touchless technology has never been more important.
Key Challenges
Getting documents from your phone to a printer can be difficult. And scanning jobs from your MFP to your desired destination often involves several steps that take up precious time.
Finding a printer on the network to print or scan from your mobile device should be a piece of cake, not tedious or hard to figure out.
IT organisations have to provide consistently secure access to users with different devices across a work landscape that's constantly changing.
And as businesses balance remote work with returning to the office, the health and safety of employees is critical.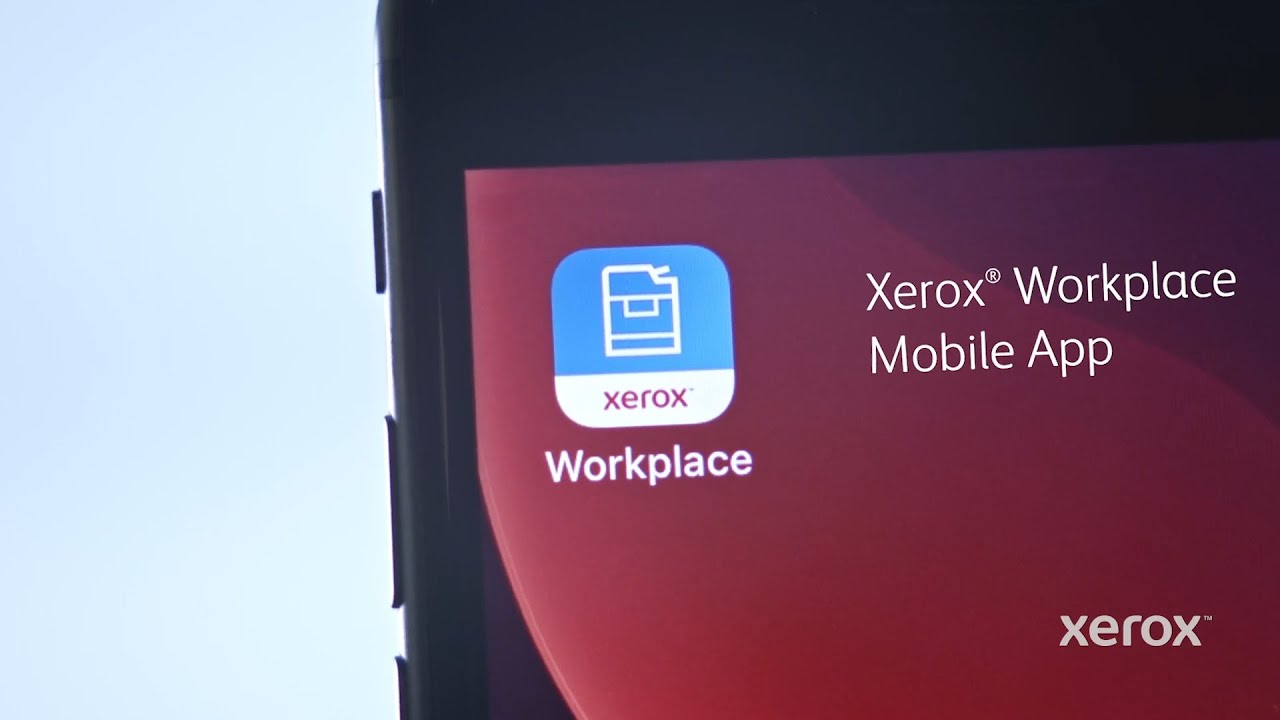 Why Choose Xerox?
With an intuitive easy-to-use interface, the Xerox® Workplace Mobile App puts convenient printing, scanning and copying tasks back in the palm of your hand.
Connect: Simplify the process of connecting your iOS and Android device to your Xerox® MFP*. With a few quick taps, NFC provides instant pairing. Alternatively, pair using a QR code or type in the IP address.

Scan: Make a contactless MFP scan with remote control from your mobile device. Drop the page into the feeder and control the scan and routing right from your phone. Leverage your contacts or cloud credentials to route jobs to their final destination in a snap.

Print: Open, preview or share your document with the Workplace Mobile App to adjust your job settings and print to your printer of choice. A wide range of print settings keeps you agile.

Copy: Initiate copies directly from your mobile device and access the core features of your MFP without having to touch the user panel.
Use together with Xerox® Workplace Solutions to unlock even more capabilities, such as:
Mobile tap to unlock the device

Secure release of your stored documents at your printer, even if they were sent from your PC or other device

Convenient cloud printing that extends printing from any network connection

… and much more
See more at xerox.com/WorkplaceSolutions
* Supported devices only.
Compatible Products
Xerox award-winning copiers, printers, and multifunction printers include flexible platforms that accommodate a wide variety of software solutions. Software functionality may vary by product model. Contact your local sales representative for detailed compatibility information.
Xerox Multifunction / All-in-One Laser Printers
Xerox Multifunction / All-in-One Laser Printers