Go Beyond CMYK with Digital Printing
Free Your Creativity in Stunning New Ways
Find a digital print partner who is ready to produce your vision.
Hear Directly from Designers about the Exciting Possibilities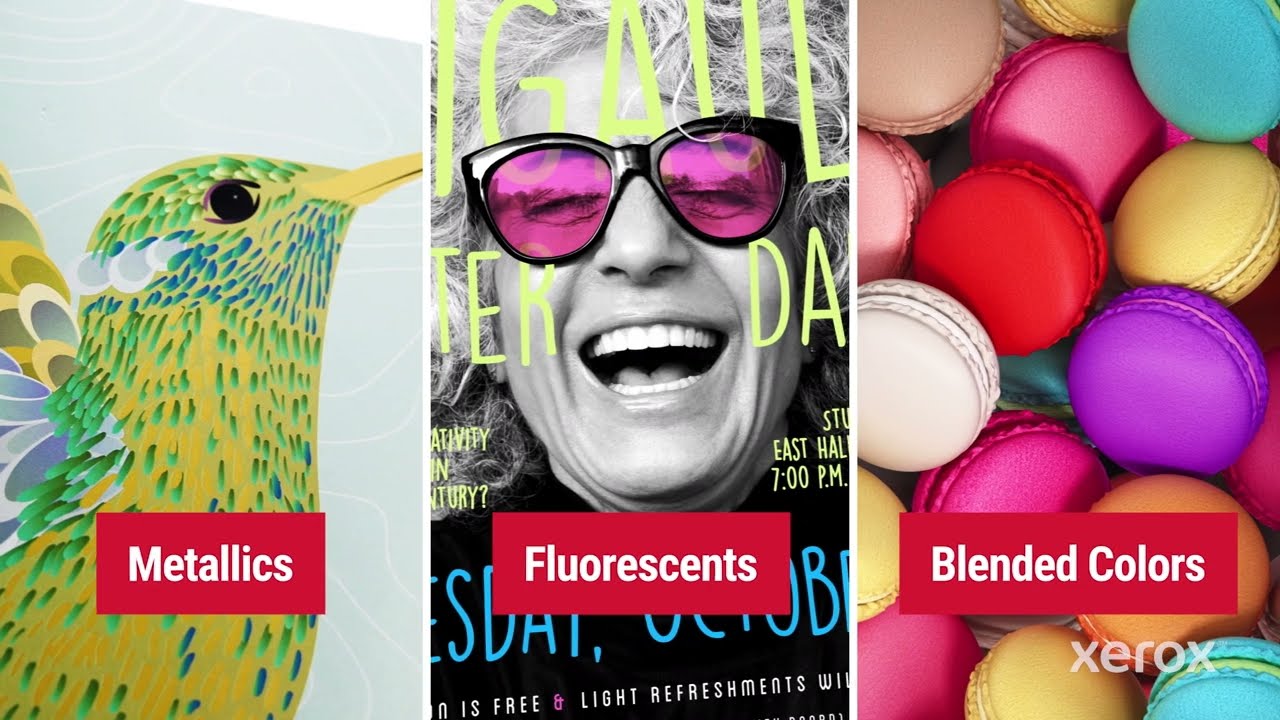 Unlocking the Power of Digital Embellishments
Unlocking the Power of Digital Embellishments

Print Panther Leverages Embellishments to Create "Print That Matters"

White Comes in Many Shades from New Sneakers to Fresh Snow: How Xerox Renders a Most Complex Color

Do creatives care about technology?

Is "Better Together" the future for creatives and print providers?

Do designers care about technology?

Bringing printers and designers together: Julian Boulding

What if you could print your imagination?

Can your imagination be embellished?

Where does creativity come from?

Can your imagination be embellished?
Download our guides for designing for CMYK+ to open up a world of design opportunities.
Iridesse Production Press
Create ultimate brilliance with the Iridesse® Production Press by mixing CMYK with speciality colours in a single pass. Utilise the blended swatch books and corresponding InDesign files to design to these blended colours.
Iridescent Hues Silver Swatches
Iridescent Hues Gold Swatches
Adaptive CMYK+
Get ready to glow. The Xerox® Adaptive CMYK+ Fluorescent Toner Kit unlocks incredible new design possibilities with three Fluorescent Toners—Cyan, Magenta and Yellow. Utilize the fluorescent swatch mixes to quickly dial in eye-catching blended colors.
Check-out the events to see first-hand what's possible in print right now.
Get Connected to the Beyond CMYK Design Community
These creative heroes are already using Xerox technology to win more business.

See how creatives and clients are excited by the advanced colour from Xerox digital presses in these digital printing examples. Submit your work or request a sample.

Subscribe for the latest trends, tips and technologies from Xerox

Stay in the loop about latest trends, tips & technologies.
Meet the Xerox Technologies Behind the "Wow"
Печатная машина Xerox® iGen® 5 Press

Be ingeneous with advanced automation, an optional 5th print station and extra long sheet capabilities up to 889mm.

Xerox® Iridesse® Production Press

Delivers more "wow" impact per printed page through digital speciality enhancements and Colour FLX Technology.

Shine and glow with the Xerox Adaptive CMYK+ Kit

The Xerox Adaptive CMYK+ Kit adds shiny metallics, bold whites, and glowing fluorescent colours to a Versant 180/280 press or Primelink C9065/C9070 printer.
Grab attention, customise, and personalise in print and beyond with XMPie® - integrated with Adobe technology.