Xerox® Campaigns on Demand Services
Xerox® Campaigns on Demand Services can help you execute your business goals seamlessly. Living in a customer-centric era, personalised campaigns and interactions are key. Implementing cross-channel campaigns consistently and effectively can be costly and time-consuming, but it doesn't have to be.
With Xerox Campaigns on Demand Services, you can create and orchestrate digital and printed personalised marketing materials that deliver consistent customer satisfaction. We'll guide you along the way with relevant content and product recommendations. This hands-on approach makes it easy to establish templates, ensure brand consistency, and access campaign tracking for ongoing optimisation. Streamlined, efficient, and scalable, personalised content services can spark a conversation with any audience through a range of marketing channels.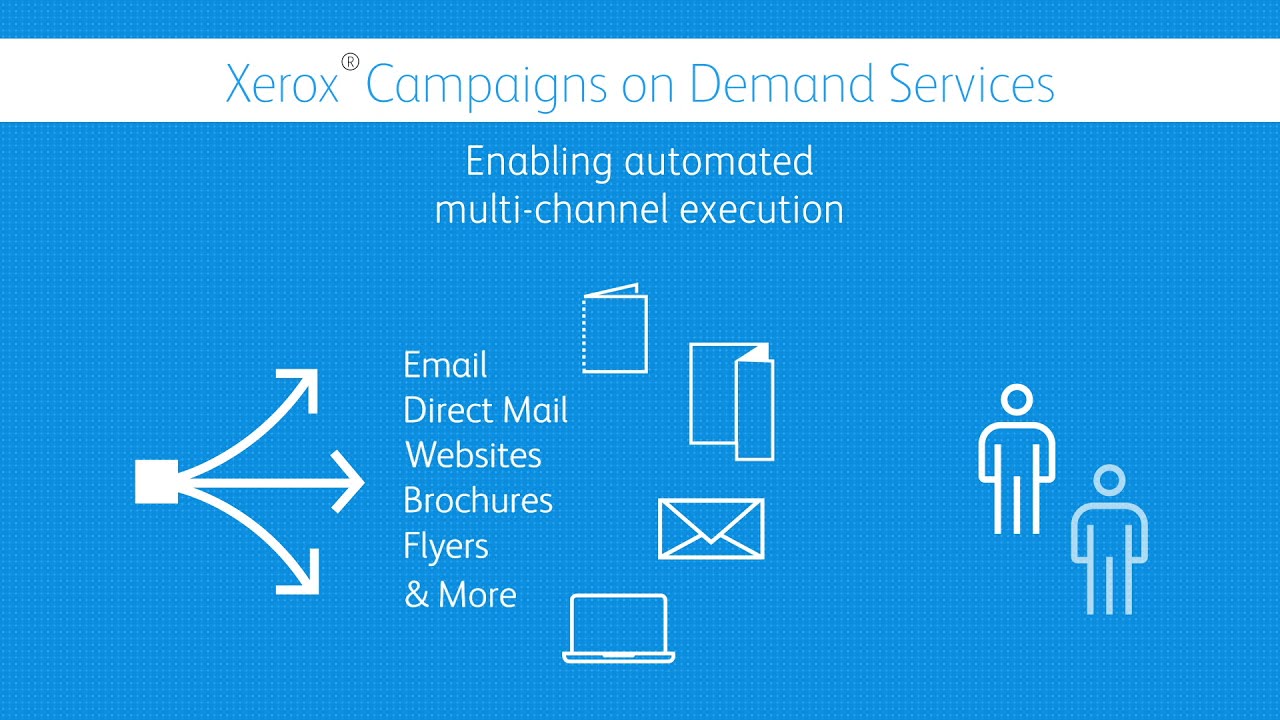 Marketing Campaign Challenges
Creating personalised experiences can help you attract potential customers and exceed your existing customers' expectations. This can be quite challenging today, with businesses struggling to manage the engagement of multiple suppliers and marketing technology platforms while maintaining brand consistency. Cross-checking several platforms requires more time and resources and leaves more room for error. Not to mention, it can be harder to calibrate results and determine the success of your marketing campaigns.
Xerox Campaigns on Demand can assist your business in overcoming additional marketing campaign issues, such as:
Difficulty in managing secure, GDPR-compliant data

Limited core expertise in cross-channel campaign execution

Slow speed-to-market execution

Low response rates for existing campaigns

Leveraging existing marketing assets and approved content in new campaigns

Poor line of visibility of campaign's workflow process 

Escalating costs
For personalised marketing solutions that produce positive user experiences, get ahead with Xerox.
Personalised Marketing Solutions
Xerox Campaigns on Demand lets businesses create repeatable, personalised marketing campaigns with a shorter turnaround time. Save time, money, and hassle with our easy-to-use marketing strategy:
Design and personalise multi-channel campaigns using our simple online collaboration program.

Execute your campaign, completing items like digital delivery and print fulfillment.

Easily monitor your campaign performance and optimise using analytics.
Xerox Campaigns on Demand Services include proven templates for repeatable efficiency, print, and digital integration. Opt for a single vendor to support turnkey multichannel campaigns from end to end with data-driven personalisation at scale.
How Xerox Campaigns on Demand Works
At Xerox, we make it our business to help your business succeed. That's why we developed a simple, easy-to-use system to help you get your desired results in a fast, affordable, and convenient manner.
You begin by working directly with your Xerox communications advisors to get the most out of your campaign and add new capabilities. Start your Campaigns on Demand today with these steps:
1. Collaborate with communication advisors and align on key objectives to develop campaign templates.
Our advisors will work with your team every step of the way on your specific areas of focus, including creative control, insight and strategy, data, and content development. During this discovery phase, we'll help identify process performance indicators and potential benchmarks as well as pain points and bottlenecks.
Use our online storefront to manage your campaign Our easy-to-use online shopping-style experience is ideal for campaign ordering and scheduling. Here in our online storefront, you can conceptualise, design, create, and manage your campaigns all in one convenient place. Digital files and assets are securely managed so you feel confident your work is protected.
2. Enable localisation, translation, and production processes.
At this stage, you can select a specific campaign and upload a list of contacts to the platform to personalise each email, print material, or web page as needed. It's really that simple!
3. Execute multi-channel campaigns.
Finally, you'll execute multi-channel publishing in formats such as web, email, apps, SMS, social media, and print. Set a date for the campaign to start running, with preset flows and touchpoints. Then, access the data analytics so you can optimise your campaigns.
Benefits of Personalised Marketing
The benefits of personalised marketing are far-reaching. Let Xerox alleviate some of the marketing burden off your shoulders with our simple and effective Campaigns on Demand services. Whether you are a start-up or large-scale company, we provide services that have been proven to enhance your business, improve customer service, and increase revenue.
Explore the benefits of utilising our approach to personalisation in marketing, including
Improved campaign engagement and customer loyalty

Scalable data-driven personalisation with business growth

Easier brand and regulatory compliance

Increased security

Speedier time to revenue

Trackable results for real-time return

Controllable campaign settings, automation

Faster, stronger, more measurable ROI
Achieved Results
Xerox supports our clients' campaign on-demand needs with innovative solutions that deliver the desired outcomes. Here are some of the results we've helped our clients achieve:
114% increase in customer referrals

54% campaign web conversion rate compared to 4% industry average

11% increase in donors in response to a cross-channel campaign

2-week turnarounds for referral voucher delivery, down from 3 months

Speedier time to revenue
Xerox Campaigns on Demand Services will assist your business in producing smooth and effective marketing strategies. Let us engage with your team to establish your current customer journey and map a path to success. Being a global digital and print provider, we understand the importance of producing quality marketing solutions that attract potential customers and improve customer retention. We know that customer satisfaction is at the forefront of your business, as we operate with the same mindset. That's why we have Xerox Communication Advisors who collaborate with you to provide support throughout the entire process.
Contact us today to learn more about how Xerox can benefit your business.
Digital Hub and Cloud Print
Consistent communications are essential to customer conversion. Let's make it easy to start a conversation.
Customer Communications Transformation Guide
A bold, practical approach to managing your communications and winning at customer experience.