Xerox® Team Availability App
Inform safer return-to-work policies with a real-time view of every employee's location and availability.
As the workforce returns to the workplace, most if not all companies will implement some level of staggered shifts or reopenings to reduce employee contact. It's an unprecedented challenge for any size company. But the bigger the organisation, the more complex this approach becomes.
That's because success will require real-time data to track the location and status of employees on a daily basis. Data that all too often is gathered through manual processes and stored across a patchwork of spreadsheets.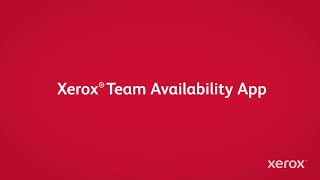 KEY FEATURES TO HELP MANAGE YOUR WORKFORCE
Status
Online, multiple device responsive one-click status report.
Location
Check staff availability across multiple locations, allow for better decisions.
Notifications
Notify user when they have not updated their status.
Onboarding
Simple, secure, and automated staff onboarding process.
Customisation
Portal can be customised: colour, logo, languages, locations, departments.
Audit
Portal admin has access to full audit log on data actions and data changes.
Dashboard
Quick overview of the staff's statuses, filtering per location, status and department.
Admin
Simplified admin interface, with easy site setup, user management and auditing.
---
The Xerox® Team Availability App helps automate the time attendance process by presenting employees with a simple status page to update each day. They share if they are working, where they plan to work and if they are feeling healthy and are available to come into the workplace if necessary. Their responses feed into an easy-to-understand dashboard mapping the location and availability of your workforce in real time, so leaders have the most up-to-date data to inform decisions, resource planning and return-to-work policies.
Making it easy for all staff to log their status to attend work
The Xerox Team Availability App is:
Quick to deploy. There's no need to plug in or make any changes to your existing IT system, so we can have you up and running in a matter of hours. Plus, employee onboarding is completely automated.

Customisable. You're able to change languages across geographies and customise the portal by location, department and more. Choose your brand colours and add your logo for a seamless employee experience.

Flexible. This Software as a Service (SaaS) offering is available as a subscription, so there's no need for a big infrastructure investment or to try to guess how long you'll need it. Simply take it month by month.

Secure. This app is GDPR compliant and all web traffic is protected by RSA Encryption and SHA-256. All data and content is securely stored and controlled by you, the owner.
The Xerox® Team Availability App is a natural extension of what we've done for decades — digitise documents and critical work processes to help organisations like yours increase efficiency, improve security and reduce costs.