Adjust to a new way of working with Xerox® DocuShare® Flex
Xerox® DocuShare® Flex: Cloud Content Management
Transform your workspace and enhance workflows with document capture, management, and sharing made easy.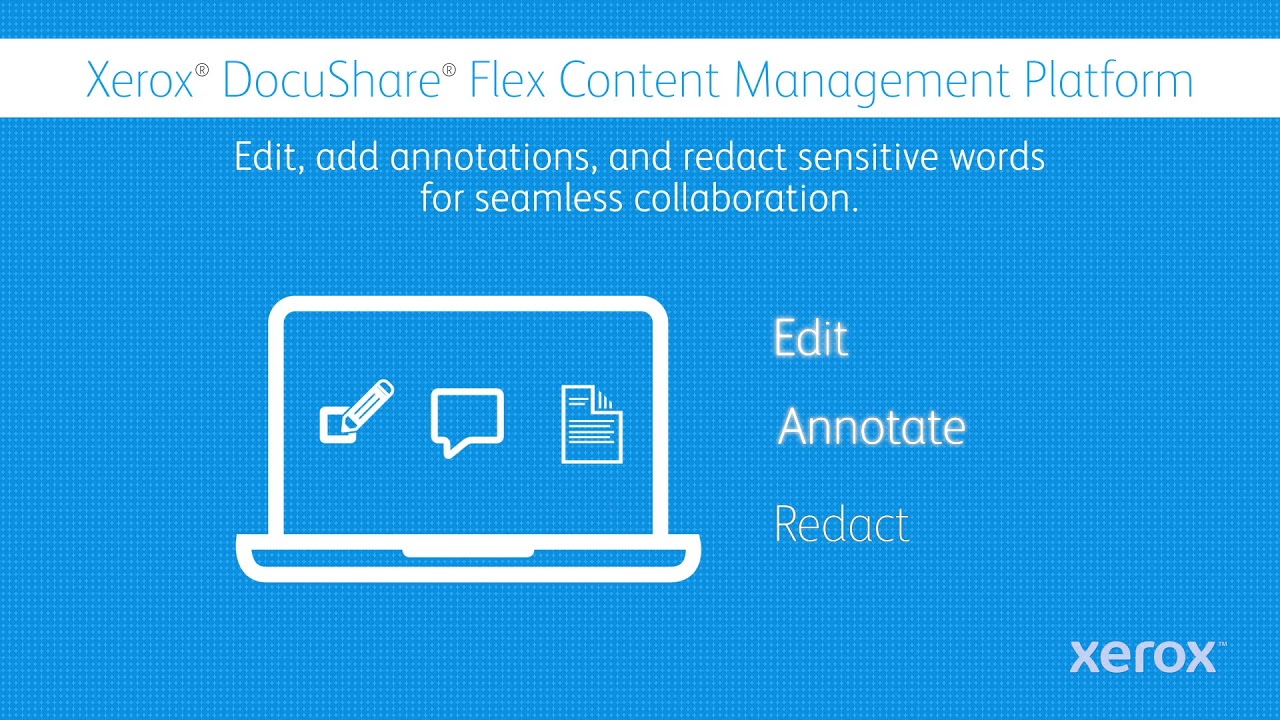 Xerox DocuShare Flex: Work Within Reach
Xerox DocuShare Flex: Work Within Reach

Content Management made Simple, with Xerox DocuShare Flex

Capture for Xerox DocuShare Flex Content Management Platform

Accounts Payable Automation for Xerox® DocuShare®

WebForms for Xerox® DocuShare®
With DocuShare Flex, document capture is simple. Scan, classify and validate sales orders, invoices, contracts, etc., using a mobile device, PC or Xerox MFP or any TWAIN-compliant scanner. Leverage automatic, cloud-based OCR in all languages, barcoded separator sheets, integrated viewing and indexing capabilities, database integration and multi-file drag-and-drop to quickly and easily digitize, sort and store paperwork.
Use DocuShare Flex to manage your documents and data. Create custom document types and workflow steps. Deliver captured documents into validation and approval workflows. Set up business rules to automate and drive common business processes such as contract management and HR onboarding. Assign tasks and manage employee workloads.
DocuShare Flex workflow tools empower you to create highly tailored automation solutions. For example, Webforms help you go paperless, with intuitive online forms that let people capture data on the fly, and automatically trigger approvals. Simple, re-usable routing slips and business rules help you quickly automate processes. And reporting lets you track and analyze results.
DocuShare Flex makes teamwork and collaboration intuitive and efficient. Annotate images to share insights. E-mail content in multiple ways – as an attachment, ZIP file or URL, or into a workflow. Create team folders to drive notifications and e-mail collaboration.
Leverage solutions to digitize processes. Quickly add purpose-built cloud solutions like Policy Manager for DocuShare® Flex to automate the timely review of company policies, so the right version of a critical company policy or guideline is always available, supporting compliance. The Contract Management for DocuShare® Flex solution helps you leverage the cloud to digitize all contract processes, from creation, collaboration and negotiation between internal and external parties, to approving and digital signing, to quick retrieval and an automated renewal process. The Accounts Payable Automation toolkit reduces the time, labor and cost of processing invoices.
Quickly adapt solutions to meet the needs of your SMB or department. DocuShare Flex solutions are designed to adapt to your unique processes. For example, Accounts Payable Automation captures invoices from many sources – email, fax, MFPs, production scanners – and automates approvals and payments to your specific company or department requirements.
Easy to Use: Simple setup and configuration, SaaS-based cloud delivery and a user-friendly, intuitive interface mean that deployment of DocuShare Flex takes days, not months, with little to no training or IT support required. Access content anytime, anywhere, and leverage a full-text search engine to find files in mere seconds.

Mobile: Today's workplace is mobile—you take your work with you. The DocuShare Flex App allows you to login, search and view documents, download, upload and share them, perform mobile capture, and easily complete tasks such as document approvals. With the app, critical business activities can move ahead, wherever you are.

Secure: Xerox follows industry best practices in cloud security, including encrypted user authentication, scheduled backups, off-site storage and site replication. Administrators can control rights and permissions – who can access, author and view documents; enable automated data archiving, reviews and destruction; and benefit from reporting and security audit trails.

Scalable: DocuShare Flex grows with your company, scaling to changes in user numbers, storage space and process requirements. In addition, you can choose concurrent use licensing – an attractive option if your organization has a limited number of users accessing Flex on a regular basis.
Newsweek: Best Business Tools

Xerox ranks among the best business tools in Enterprise Content Management, Document Management Software and Managed Print Services.

Xerox® DocuShare® Flex Webinar: Supporting a Connected, Collaborative Team

See how Xerox® DocuShare® Flex helps remote & office teams share, organize & collaborate on content automatically.

Newsweek: Best Business Tools

Newsweek names DocuShare® and Managed Print Services to 2019 list of Best Business Tools.

Enterprise Content Management Case Studies

See how Xerox® DocuShare® has helped so other organizations work better through digital transformation.
Quick Links and Resources
Enterprise Content Management Insights