Xerox® Digital Hub and Cloud Print Services
Utilize the capabilities of Xerox® Digital Hub and Cloud Print Services to support your business goals. Across your global enterprise, your communication and marketing efforts should provide personalized, localized, targeted communications to your customers. Regardless of how far your enterprise reaches, your communications should be consistently branded and be available quickly, with high-quality marketing materials and communications. With our Digital Hub & Cloud Print Services platform, you can access cost-controlled production of communications for employees and customers in print or digital formats, with full visibility of the workflow process.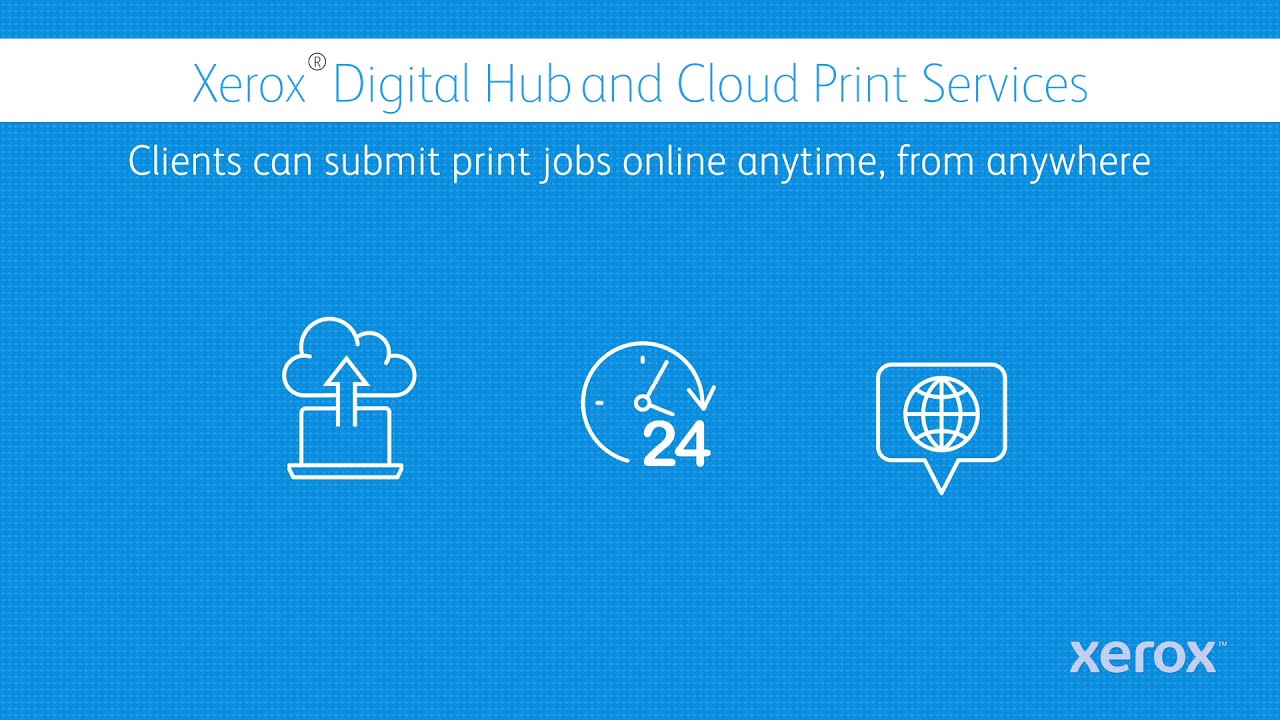 And at times like these, when supply chains can face disruptions and your normal route to market may hit roadblocks, we can help minimize the impact of interruptions for smoother business operations as a global print provider.
Xerox Digital Hub and Cloud Print Services is a multi-layered solution for organizations that need a fast, cost-controlled method to design, produce, and deliver a variety of on-demand digital and printed marketing materials. We understand that creating consistent, quality materials on time is a top priority – and we are here to help every step of the way.
Digital Asset Management and Print Solutions
Xerox is proud to offer digital asset management systems and print solutions to keep your operations running smoothly. This service lets businesses create and send communications at scale and with speed to keep customers happy.
You can use our service to print online at any time or place using an online storefront. Improve your time to market when creating printed materials, including:
Presentations

Brochures

Booklets

Flyers

Manuals

Blueprints

Posters

And more
Our complete cloud-native print and digital management solution covers all aspects of the production print and distribution process, including order entry, document preparation, on-demand printing, copying, finishing, and distribution. We provide our clients with a fast turnaround on printing services to help them reach their goals.
Business Printing Needs
Today's businesses face a wide range of digital content and print management obstacles. And with an influx of remote working, certain operations present even more challenges, as the monitoring of print projects has become increasingly difficult. Many companies experience struggles, such as:
Urgent customer or internal requirements

Slow development and processes

Halted in-house printing operations

Limited capabilities when working remotely

Inconsistent quality

Interruption of the distribution chain

Hidden costs

Customer confusion
Especially prevalent in the current work environment, those who work from home may not be able to produce consistent quality at the necessary speed since they no longer have access to the materials they once did in the office. This can lead to great uncertainty between clients and employees and build inconsistency in the interpretation of brand guidelines, which may also incur additional costs as you strive for resolution.
At Xerox, we understand the urgency to produce and send quality communications and are well-equipped to handle all your printing needs. We are proud to deliver high-quality marketing content for your marketing teams, as we make it our business to help you improve your business.
How It Works
Our fast, simple, and reliable system allows you to book printing jobs without hassle. Office workers and virtual workers alike can use our Xerox platform to do on-site printing, print to production centers for high-volume and consistent quality output, and print to retail locations to receive materials closest to the point of need.
You will be able to manage your digital and print marketing material delivery with an efficient and effective global approach that provides branding consistency and localization. We'll provide benchmark security for end-to-end marketing print services and save you money, while managing the process so you can order what you need and continue to focus on your business success.
Here's how our Digital Hub and Cloud Print Services work:
1. Templates, documents, and digital assets are uploaded to a web portal.
2. Once catalog is ready, users can submit print and digital jobs online anytime, from anywhere using the Xerox platform.
3. Print and Digital jobs are automated and sent to an integrated network of production centers to best suit the clients' requirements.
4. Jobs printed on demand are distributed as needed with multiple delivery options.
Benefits of Using Xerox as a Business Print Solutions Provider
For convenience, reliability, and consistency, Xerox is the best printing solution for your business. We're cost-effective and driven to give businesses the best results for success. Consider the following benefits to see how Xerox services can help your business run more effectively:
Customized communication materials 

Output-ready materials guaranteeing brand compliance

Easy accessibility 

Consistent top-quality

Transparency and cost control

24/7 availability

Delivery and in-store pick-up options, where available

Increased security

Uninterrupted services

Global Scalability

Manage multiple locations
Digital Hub and Cloud Printing Service Options
Xerox offers two digital hub and cloud printing service options depending on your business needs. For more elaborate jobs, choose our full platform option and for quick and easy printing solutions, opt for our express platform.
Full Platform
Our powerful print and digital management service begins with clients having full creative control to create a customized online catalog with templates thanks to the help of our comms advisors. Our services allow clients to customize, localize, and translate if needed and select from our production menu, whether it be print production or digital production, ensuring brand guidelines are followed.
Express Platform
For quick and simple jobs, clients can input their projects into our Xerox platform, select from on-demand printer options, and then choose delivery or in-store pickup. Our express service gives clients full creative control to develop their content before submitting it to us and then easily navigate our system to produce quick, quality results.
Positive Results
Over the years, Xerox has helped many businesses meet their digital and printing needs. Here are some of the results we have seen from stepping in to assist our clients:
40% cost savings managing end-to-end processes.

22% savings in one print category in three months.

Cut build-and-approve cycle from nine months to 13 weeks.

Reduced marketing chain suppliers from 60 to one.
Xerox Digital Hub and Cloud Print Services can help your business by supporting smooth and efficient operations. As a global print provider and partner in your success, we have Xerox Communication Advisors who collaborate with you to provide support throughout the entire process. Contact us today to learn more about how we can assist your business.
Manage Data Capture and Business Processes More Effectively
Redefine the way you handle physical and electronic data capture with our Capture and Content Services. Leveraging powerful AI and machine learning, you can automatically capture and validate information from digital or physical documents.
Creative Services Capabilities
Transform ideas into stunning realities with our innovative services; leveraging design, analytics and deployment capabilities.